Telawize (Pty) Ltd was formed in April 2010
With the divestiture of GFC Consulting Engineers, by the initial owner, this ensured that the company became part of the new South Africa as well as adhering to the requirements for BBBEE. Telawize started operating in 2012 and has successfully completed several projects in the civil and structural fields to date.
Although regarded as a SME the long-term vision of the company is to invest in the country, its people and to grow into the whole of Africa.
Telawize's B-BBEE score was verified as a Level Two Contributor with a 125% BEE procurement recognition level in 2021.
Mission Statement
Our mission is:
To be professional in all aspects of the work;
Deliver products with outstanding quality, on time and cost effectively;
Create a harmonious working atmosphere by treating all clients, staff, members and working associates fairly, with respect and dignity, and
Allow for personal growth of all staff by creating a pleasant working atmosphere, encouraging training and stimulating development.
Vision
We aim to be a leading force within the engineering design and project management industry. The basis of our business will be the provision of engineering design and project management solutions to meet the unique requirements of our wide spectrum of clients. We will champion the inclusion of formerly disadvantaged communities in the engineering design and project management industry so as to bring social and economic improvements to our members, staff and these communities.
Gawie is a professional civil and structural engineer with 28 years experience, as well as a pilot. His involvement in the property development and construction environment has been valuable in procuring and developing new business.
As a private pilot for the last 24 years with about 6000 flying hours to his credit this is extremely useful for conducting supervision of various projects all over South Africa flying the planes that the company owns.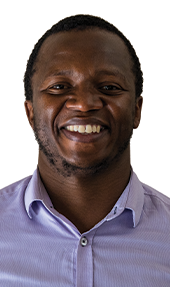 Mfundo is a professional civil engineering technologist with twelve years experience in the field of civil services and infrastructure development within South Africa. 
His speciality includes outline scheme reporting, bulk water and sewerage design, pavement design, water reticulation, sewer reticulation and storm water drainage inspections. 
He also has experience in managing various infrastructure related projects.  These include water reticulation projects, bulk water pipeline projects, sewer reticulation projects, bulk sewer pipeline projects, pumpstation projects, road pavement and storm water drain projects.